Early Release - Wednesday, March 14th
Cobb County elementary students will be released at 12:30 PM on Wednesday, March 14th.
Eastvalley ASP will be available from 12:30 PM - 6 PM.
Last Chance for Field Day/Grade Level T-shirts!
This is our LAST Spirit Wear order of the year! Log in to Membership Toolkit to order your Field Day/ Grade Level T-shirt (only $5 per shirt!)! These colors will move up with students - if they are purple this year, they will be purple next year and so on. Teachers and parents may order colors to match their student's grade as well! W
e'll take orders until

Friday, March 16th

so don't delay!
Eastvalley Leadership Day - Mar 16
This Friday, March 16th, is our annual Leadership Day at Eastvalley! Students and staff are given the option to dress up as their favorite leader for this special day! The person they dress up as can be someone of historical significance from any field that they may have exhibited leadership (government, business, entertainment, athletics, etc.) or it can be someone of personal significance (family member, coach, scout leader, etc.). Students will kick-off the day by having a "Leader Reader" from the community read a story to their classroom! We are excited to celebrate student success with the 7 Habits as we continue to achieve through our Leader in Me initiative!
2018 Mother-Son Night, Friday March 16th 6-8pm UPDATE
Registration ends Wednesday, March 14th for our Annual Mother-Son Trivia night is Friday, March 16th, 6pm-8pm at the Eastvalley Cafeteria. The cost is only $15 per family. There will be trivia, pizza, and coke or root beer floats! (There is a prize for the winning team and a limit of 3 moms per team.) You can register using the flyer sent home with your child or through MTK online.
To register online, first login to Membership Toolkit.Then go to "Online Forms" at the top of the page to find the form for this event. Contact Jennifer Yankowsky (jyankowsky@gmail.com) or Elizabeth Olgetree (elizotree@gmail.com) with questions.
Door Decor Contest Celebrating Black History Month - Winners Announced!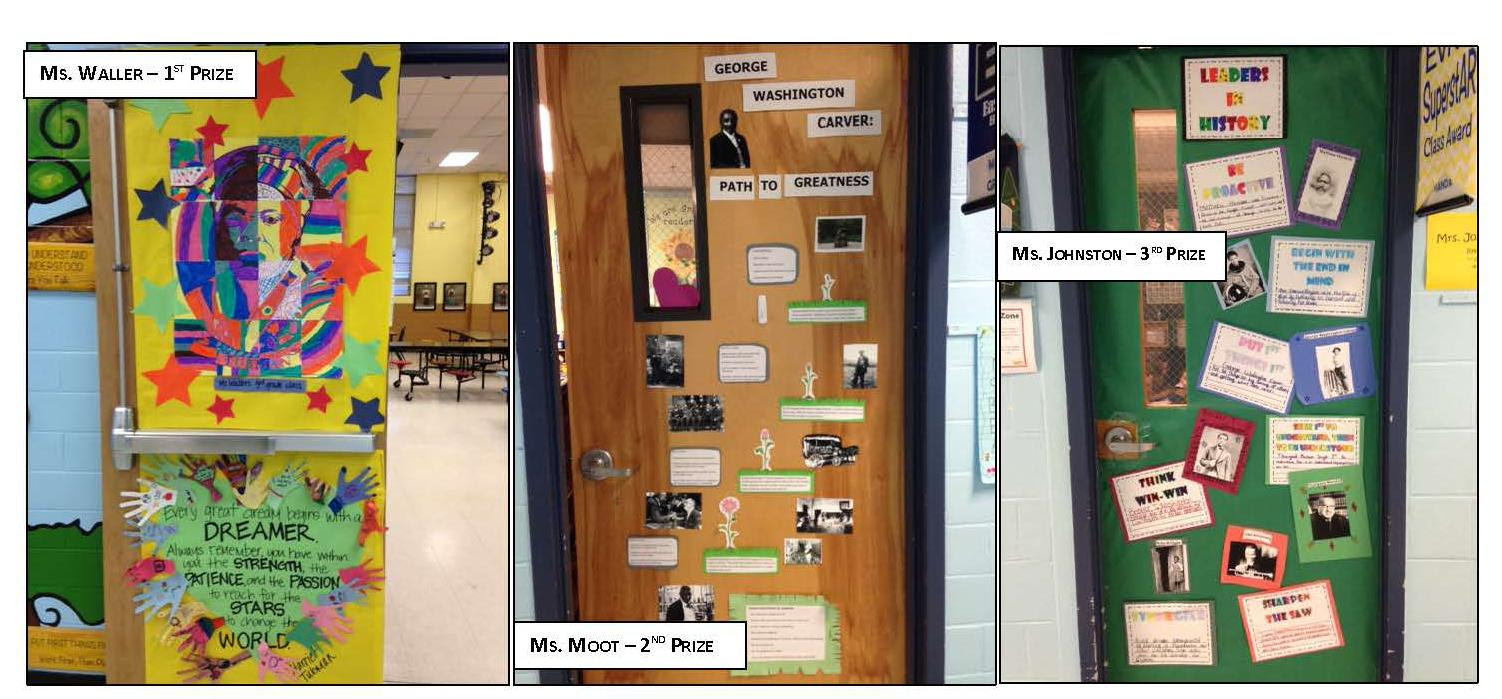 Thank you to all the Eastvalley students, staff and parents who synergized and decorated classroom doors to celebrate Black History Month.The entire Eastvalley community is the real winner of this contest. Not only because our students and parents learned more about African-American culture and contributions, but also because we all get to be amazed and inspired by the beautiful, moving and expressive content and designs our classes came up with! Photos of all of our fabulous doors have been posted on the website for you to enjoy. Please take a moment to look at the creative, uplifting art and messages chosen and crafted by our amazing Eastvalley community.
Our judges stated that each of our 21 classes that participated deserved to win.
While the contest was extremely close, please join us in congratulating the following classes, who will each win a party thrown by the PTA:
3rd Place Winners of a Popcorn Party - Ms. Johnston
2nd Place Winners of a Popsicle Party - Mrs. Moot
1st Place Winners of a Pizza Party - Ms. Waller
The Eastvalley PTA would like to thank all those who participated and judged. Please click here to see the winners and all the decorated doors on our website.
School Climate Survey Deadline Extended to March 30
Hello EV Parents! The Georgia School Climate Survey deadline has been extended to March 30th due to the multiple inclement weather days we have experienced this year. We have already completed our minimum requirement of responses and presently we have just over 100 parent responses from our community, however we are continuing to seek your feedback regarding what we do well and what we can continue to improve upon. If you have a moment, please complete the survey at the link below if you have not already done so by March 30th. Thank you for your feedback and support of Eastvalley!
Georgia Parent Survey:
Eastvalley Chorus Presents Annie Kids
The Eastvalley Eagle Chorus will present
Annie Kids
on the Wheeler High School
B.B. Williams
stage on
March 22nd & 23rd
. Performances are at
6:30 PM.
Tickets are $5 for adults and $3 for students and senior citizens over age 65.
Come out and support Eastvalley & the arts!
Rising Kindergartener Parent Info Night - April 26
Please help us spread the word that we are hosting our Rising Kindergarten Parent Information Night on Thursday, April 26th. Parents will have an opportunity to meet our amazing kindergarten teachers and learn what kindergarten is all about for their children. They will get to tour the school to visit kindergarten classrooms, media center, STEM and Science Labs, and all the specialist classrooms. Please let those in your community who will have kindergarten students next year know about this event!
Spirit Night at Marietta Martial Arts – Kung Fu Panda Night
Our Partner in Education, Marietta Martial Arts, is offering a Parent's Night Out for our students. 100% of the proceeds will be donated back to your elementary school! The event runs from 6-9:30 pm on a Friday night. There are 3 different Fridays available at any of the three Marietta Martial Arts locations.
Students will play exciting Kung Fu Panda themed games, eat pizza, and can come dressed as their favorite Kung Fu Panda character. MMA will donate all of the fees back to you elementary school and the cost is only $20 for the 1st family member, $10 for the second, and $5 for the third or more. All students are invited to join in the fun! If you have any questions, please call Marietta Martial Arts at 770.321.1371. REGISTER NOW at www.MariettaMartialArts.com and click on "Events" then "Spirit Night – Spring"
https://www.mariettamartialarts.com/spirit-night---spring.html
Sue Larsen Memorial PTA Scholarship
Each year, the Eastvalley Elementary PTA awards one $500 scholarship to a graduating Cobb County high school senior who attended Eastvalley Elementary for at least one year.
This scholarship, formerly known at the Eastvalley PTA Scholarship, has been renamed to honor Susan Larsen, one of the school's most dedicated and tireless volunteers. Not only did Sue spend countless hours volunteering her time and talents for the PTA, she constantly sought to improve whatever task she undertook. Sue Larsen passed away on March 16, 2017.
Eastvalley Family Braves Day
Per Eastvalley's own, Dr. Bernard, we have an incredible opportunity available for you. Atlanta Braves vs. San Francisco Giants ~ 1:35 PM 1st Pitch. Sunday, May 6, 2018 - tickets on sale now!!!
Discounted seats just for Eastvalley friends & family. This is negotiated ticket cost. This is not a fundraiser.
Diamond Infield (section 116) $70

Diamond Reserved (section 113) $50

Vista Infield (sections 330 - 331) $16

Vista Corner (sections 342 - 343) $6

Parking Passes $17
Game opener: Eastvalley Eagle Chorus has been selected to sing The Star Spangled Banner. Fill in the form at this link, make your checks payable to Eastvalley and drop payment and the form in the cafeteria safe. Eastvalley Braves 2018 Ticket Order Form
Tickets will be sent home with your child the Tuesday before the game. Discounted ticket sales end Wednesday, March 21st. Don't miss out on this opportunity - invite your family & friends! What better way to celebrate Spring than to have some fun with friends and family while hearing the award winning Eastvalley Eagle Chorus and watching some baseball?! Join us this spring!
Wheeler Wildcats Golf Classic
Save the date for the highly anticipated Wheeler Wildcats Golf Classic! The event will be on May 7th at Indian Hills Country Club with a 9 AM shotgun start! Come out and support your local community by participating in this amazing event! Visit www.wheelerfootball.com for more details and to register.
Sponsorship support is also welcome! For questions about sponsorships, please contact wheelerfootball.info@gmail.com
Wheeler High School - Center for Advanced Studies Summer Camps
It's summer camp registration time and Wheeler High School has provided details on how to entertain your rising 4th, 5th, & 6th graders. The cost for each of these camps is $250 due with registration which ends 4/15/18. Here is the link: http://wheelermagnet.com/summer_camps.html. This link has information about all of our camps in case there are older siblings to think about.
Helping Our Students in a New Way: Introducing Purposity
Purposity is an amazing program that can help get resources to our families in need and is an easy way for others to give back to our community. Here's how it works:
Go to www.purposity.com and enter your mobile number and zip code to sign up. Then select "Cobb County, GA" from the Select A Community dropdown on your Account Details page to be connected to needs in Cobb County, including those of CCSD's 3 pilot schools: Eastvalley, East Cobb Middle School and Wheeler High School.
After signing up, you will get ONE text message ONCE a week (never more than that) with a specific physical need you can meet. You can read the recipient's story and decide if you'll help.
If you choose to fill a need posted by one of our 3 pilot schools, just a few clicks quickly and anonymously purchases and sends the item directly to our Social Worker, Monica Bright and into the hands of our students and families.
Sign up to be a force for good in the Cobb County community! Check out the website www.purposity.com or contact our Social Worker Monica Bright at monica.bright@cobbk12.org for more information.
Current Volunteer Needs: We're gearing up for Field Day in May. Visit our
Volunteer page
to find just the right committee for you!
Upcoming Important Dates
March 14

- Early Release

12:30 PM

March 16 - Leadership Day - Dress as your favorite leader

March 16

- Mother/Son Event

March 20

- Chick Fil A Spirit Night

4:30 PM - 7:30 PM

March 21

-

7:50 AM

Books For Breakfast K, 2 & 4
March 21 - Kindergarten Pre-enrollment

March 22

-

7:50 AM

Books for Breakfast 1, 3 & 5
March 26 - Book Fair begins

March 27

-

6:00 PM

EV Foundation meeting in the gym

March 28

-

8:30 AM

PTA Board meeting

March 29

-

6:00 PM

PTA General meeting

April 2 - 6

- Spring Break, NO SCHOOL

April 9

- Talent Show auditions at

2:45 PM

in the cafeteria